REFRIGERATED TRAILER HIRE
Same-day service. Chilled or frozen. Short or long-term hire.
Same-day refrigerated trailer hire
If you need completely mobile, flexible temperature-controlled storage – and you need it in a hurry – we are here to help.
We offer fridge and freezer trailer hire with same-day delivery.
You can locate our mobile refrigeration units anywhere with access to a standard single-phase power supply.
Our refrigerated trailers are perfect for catering, festivals, events and parties.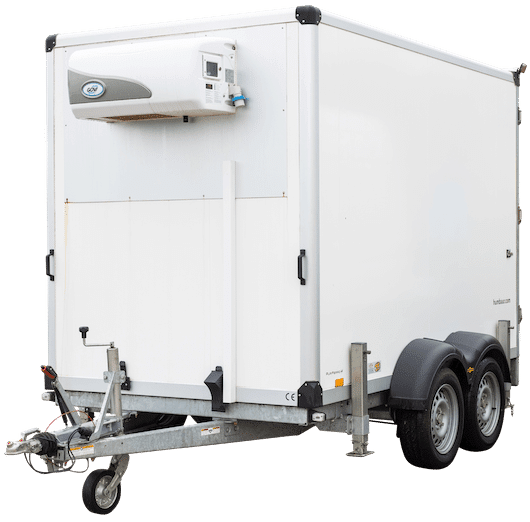 Our refrigerated trailers
Hire a refrigerated or frozen trailer today
Whether you are looking for additional temperature-controlled storage, covering an emergency or attending a festival or event, our trailers offer a flexible and practical solution.
Our refrigerated trailers have been specially designed, combining precision German refrigeration techniques and the robust quality of a British galvanised chassis and thermal insulation box.
Their bespoke design ensures quality, reliability, usability and plenty of storage space.
The perfect solution for your mobile refrigeration needs.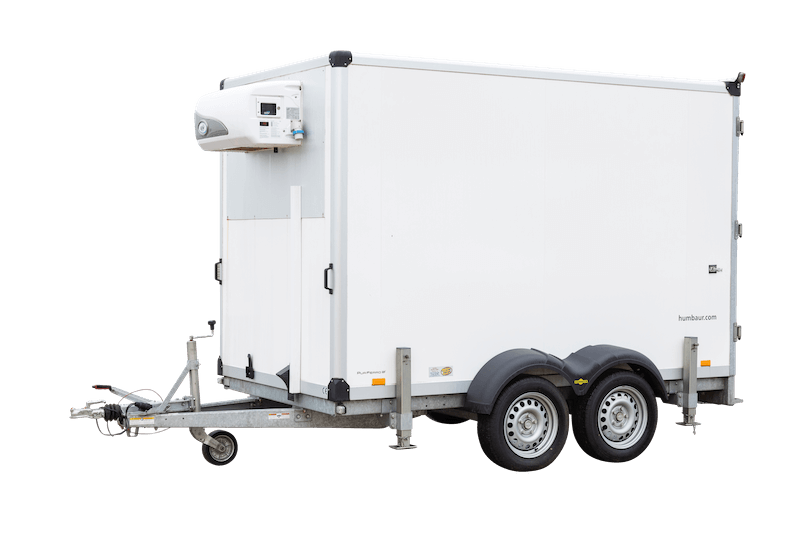 Internal Length: 2820 mm (9'3'')
Internal Width: 1830mm (6'0'')
Internal Height: 2000mm (6'6'')
Unladen Weight: 932KG
Fitted with a high-quality Govi Arktik unit from Germany
-20c to +10c capable
Approved with EU/EC Certificate of Conformity to meet the new regulations
Fully galvanised chassis
83mm 3 element side panels and roof
50mm insulated floor
Heavy duty non-slip vinyl floor
150mm vinyl skirting board
All fittings in either stainless steel or aluminium
Pull handles on the front and rear
Rear door retainer
Lockable rear personnel door with internal emergency release
Lockable control unit panel
Lockable coupling
Slide out rear step for easy access
Drain hole for easy cleaning
Internal light fitted to door with a micro switch
Spare wheel and bracket fitted to the drawbar
Heavy duty hitch lock
Heavy duty wheel clamp
Same-day service
We will deliver and site your trailer for you – and we always try and offer a same-day service when we can.
Weekend rates
Hire your refrigerate trailer over the weekend and take advantage of our reduced rates.
Flexible hire periods
You can hire a trailer for as long as you need – anything from one day plus. For longer hire periods there are some very special deals to be had – just call to enquire.
Refrigerated trailers you can trust and service you can rely on
Our expert team of engineers comprehensively check every trailer before it is hired. Should the unexpected occur we offer a 24 hour emergency call line to our staff and we will get a replacement unit out to you the very same
Simple to set up
We deliver our walk-in chiller or freezer trailers wherever you need them – and we even set them up for you. Should you need to move them they are easily towed by a van or 4×4.
Caterers, restaurants and events
Whether you need mobile refrigeration for a marquee wedding or a party, as a back-up when your cold room is refurbished or as a pop-up bar at an event we can provide extra cold storage when and where you need it.
Food manufacturers and retailers
Our trailers offer mobile cold storage to store ingredients or stock during busy periods and transport products to exhibitions.
Facilities management and the public sector
We work with facility management companies and the public sector throughout the UK, offering extra cold storage capacity, flexible fridge solutions and back-up freezer supply.
Engineering and chemical companies
Refrigerated trailers are ideal for transporting or storing temperature-sensitive pharmaceuticals and chemicals, for conditioning parts or for providing space to stock inventory before a large production run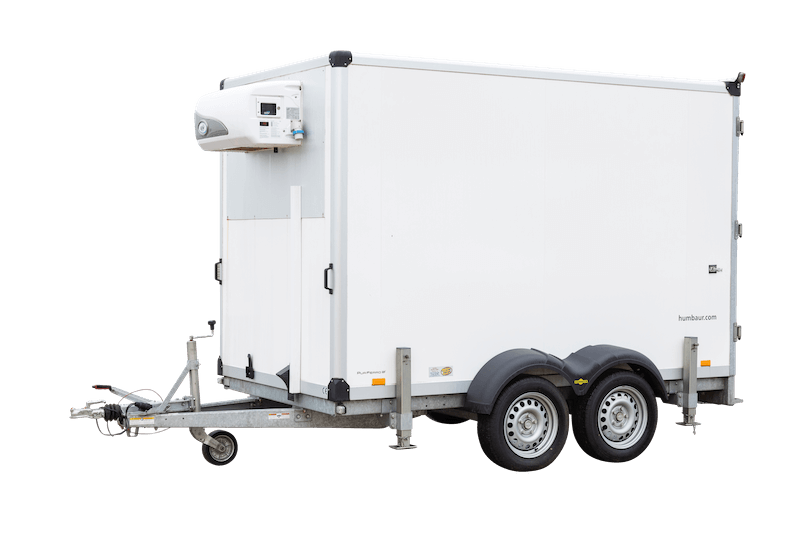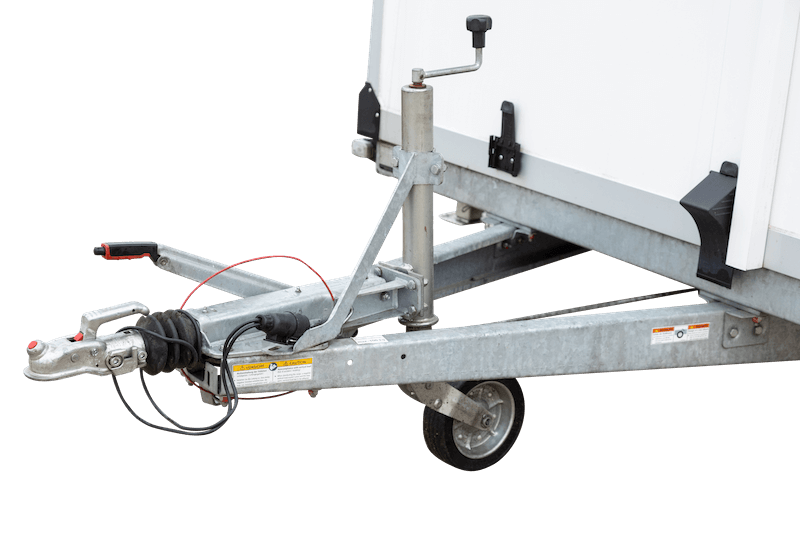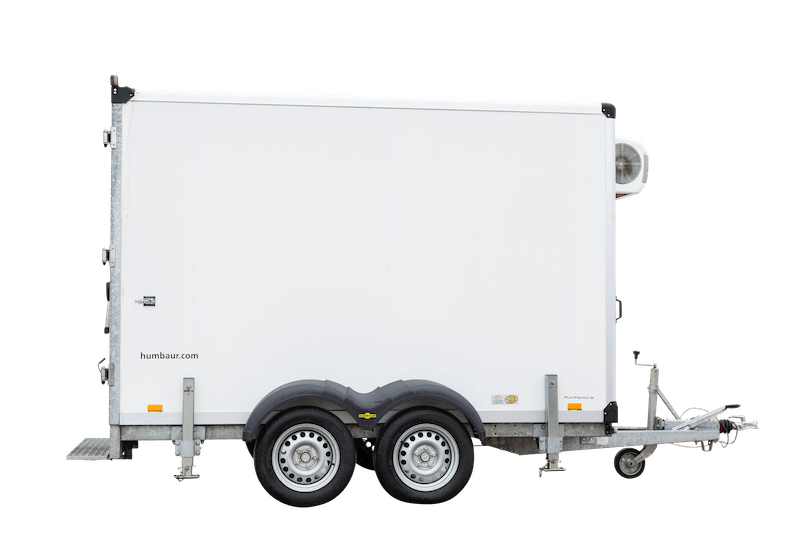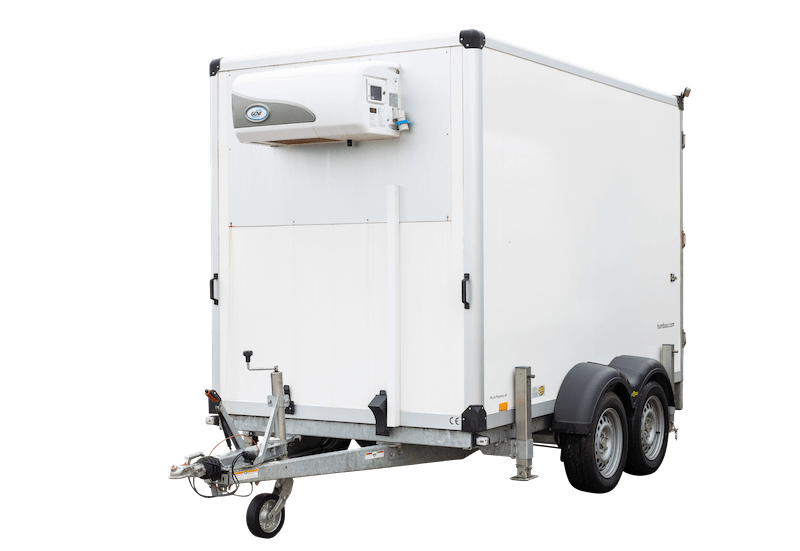 What sets FridgeXpress refrigerated trailers apart?
Over the years we have become used to the enquiries from people looking to hire a van to store, rather than transport, chilled or frozen goods.
That's why we decided to invest in a fleet of small refrigerated trailers to meet this demand.
But, which model should we offer? Of the many options available none of them met all of the criteria that our high standards demanded.
We needed our trailers to:
Cover both chilled and frozen requirements
Offer the highest levels of reliability
Provide plenty of storage space yet still be easily installed where space is at a premium
Match the same quality standards of our van fleet
The answer was to use a bespoke design that combines the best of German refrigeration technology with a British manufactured galvanised chassis and thermally insulated box.
Having first trialled the design in 2016 – and after a very successful 2017 – we are now expanding the fleet to meet ever increasing demand from a wide variety of satisfied clients.
From ice sculptures to prisoner's lunches our trailers have been called in to provide cool solutions for (almost!) every imaginable type of end user and with our nationwide delivery and installation service we have work with clients from Scotland to the Isle of Wight, and all points in between!
Whether it's the wedding champagne or the curing agent for your latest production yacht that need to be kept in tip top condition, give FridgeXpress a call.